Well...
To day was the day that 'Baby Sonic' got his oil change and in that gained an extra 2krpm of fun. I went to bed last night feeling a little 'funny' about my new acquisition. Having clocked up my run-in miles I opted to take Rachel's mk2 (F'anni) to work yesterday instead. It feels a much more 'grown up' car, less rattles and squeaks. So getting up this morning was a little strange because I didn't really get what Toyota meant when they made the mk3. Sure it handles far better, more poised and sure-footed but it doesn't make you feel as special as you do cocooned in the mk2 driver's seat.
So 7am this morning, thermals on, work-clothes and out to the car. I pulled my temporary cover off the coils for the last time and closed the engine lid. Checked the weather app on the phone - dry-day, the early morning sky filled with fantastic oranges, reds and pinks as the sun starts to break. I'll drop the roof for a change, I've not had it down yet...
Gently gently, we're not running fully synth oil Dan. Along the bypass toward Dover and take a look over my shoulder at the rising sun. Now ... now I get the car. I've never had a convertible and the freedom it gives is incredible. Strangely, I think there's less wind in the car at speed than the mk2 t-bar? But the whole 'no obstructions and open to the elements / heavens is such a feeling.
So I get to Patrick's after a wonderful early morning drive, empty roads and one sketchy moment where a pillock in a pick up truck thought it might be a good idea to turn in front of me on a blind bend across double white lines. Baby Sonic looked after me there
.. Dom, Stewart and Andy are already there, chewing the fat as all MR2 owners know how to do.
We get the car on the ramp and Patrick takes care of proceedings for me while I see to Andy's inspection panel. The alloy box thing means the roof cannot fold flat so a bit of fab work on a flat alloy sheet and it should mean his soft-top can sit that little lower. I'm sure he'll post his own pic of that. The guys also stuck my new headlight bulbs in too (Osram Nightbreakers).
Russ joins us, I was unaware he was popping down and totally agree that a mini-meet at Pat's is far better than fitting a new loo! More talking ensued as it always does while we tidy up the last few bits
Hometime...
Lift here we come
Andy, Russ and I set off, Ashford-bound.
The 2zz is a clever bit of kit. It will not allow lift all the while the engine isn't up to temp (I am guessing on the oil temp). So coming out of Bexhill is never really that much fun but I suppose it allowed the engine up to temp correctly. As the road opened, lets see if the lift solenoid is working properly.. 3000 ..... 4000 ..... 5000 ....6000
WAAAAAHHHHH!
.. Yep, that works, OH YES it does
I can see Andy grinning in my rear-view ... he's grinning because he can see how wide my smile is! THIS is what this car should have been powered with from day one. As the traffic diminishes and the roads become more rural (and twisty) We all open the taps and enjoy the mini-run. Corner after corner, keeping the car in lift through the cogs. AWESOME!
We get to Rye and stop for a spot of lunch at the chippie.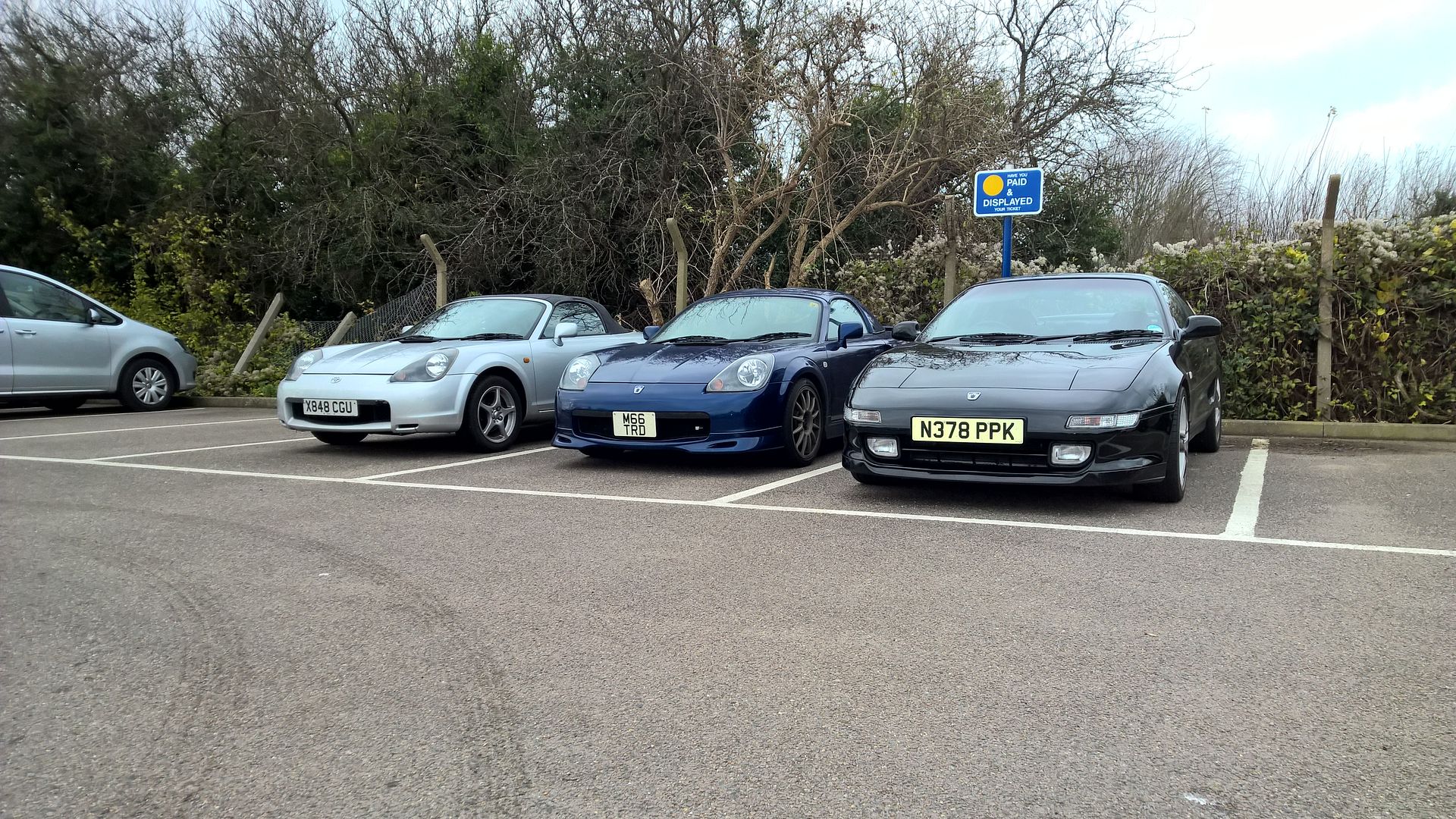 So after food we crack on, taking the Camber Sands route, rather than the Military road route (smoother tarmac
)... On we go, much the same as before, though less hungry
.. I do enjoy a good MR2 convoy, even if only 3. Andy's car looming large in my mirror and Russ not far behind, such a sexy profile the mk2. We are all agreed the mk3 is not about the looks!
We're let down by traffic on the Brenzett road and at the end Russ waves his goodbye's and boots off toward home. Andy and I head down the M20. Wow that V6 has some grunt. We play each other our passing soundtracks several times. The V6 on load is glorious, if only funds would allow hahaha! I'll settle for the 2zz.